For over 50 years now, Grimshaw Drilling has been a leading source for water well drilling in Utah, along with many other vital well services. Here is a closer look at our water well services: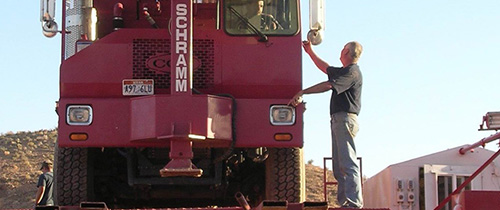 Repair, installation and maintenance: Once your well is drilled, we can design and install top-quality water systems to meet your specific needs. We provide pumps only to turn key installations. We also offer water well drilling and geothermal wells of all sizes. Additionally, we can provide comprehensive maintenance and repair services, ensuring that your pump is always in proper working condition.
Abandonment: With over 51 years of experience in the well drilling industry Grimshaw Drilling has the expertise and equipment to handle all of your well abandonment needs. When your well no longer meets your production needs, we can abandon your well per state regulation with safe and environmentally friendly procedures.
Geothermal drilling: We have extensive experience in the geothermal well drilling industry. We started drilling geothermal gradient wells in 1978, with depths of 300 to 3500 feet. We also drill geothermal production wells that range from 500 to 3500 feet deep. These wells are 7″ to 13 3/8″ with up to 2000 GPM production at 335 degrees Fahrenheit! We drill geothermal dry steam production wells with up to 1,000,000 pounds per hour possible.
In addition to well digging services, we're also able to provide you with a complete and comprehensive selection of well services, including:

Water well drilling
Test pumping
Surface drilling
Mineral exploration and spot coring
Irrigation pumps
Clean out and redevelopment of wells
If you would like to receive a free estimate on water well service and well digging in Cedar City, St. George, Hurricane, or Salt Lake City, UT, or any of our other excellent services, please contact Grimshaw Drilling at 435-586-2332, or visit our Contact Us page for more information. We look forward to hearing from you. We also offer well pump installation and excavation services!
Grimshaw Drilling Disclosure Form